Seriously it is.... last post in 2009 ... hahahhaha... ( not funny?.. sorry..)
Hello people! It's holly holiday time right? Just want to say "MERRY CHRISTMAS AND HAPPY NEW YEAR! hope you all having a good times! I bet you do, it's holiday after all. Ahhh, 2009 will end, how time flies eh? I even still remember the sweet taste of my birthday cake last year. Ohhhh yes! A new year is a new age for me too! geeezzz..... I'm officially past a decade in 1st January, I feel so old now. Hahahaha, just kidding, I'm so thrill to be 11, it's a good number. And hey! , I can feel that I'm changing, seriously. I'm more laid back now, maybe it's because i feel that school is not something so dreadful anymore, I'm so in love with my new school, and my schoolmates are the coolest! is not that I hate my old school, but yeah, honestly it's just not my place, I don't feel like 'home' there.
What else? nothing I guess, still the same person, my daddy and my sisters still said that I'm annoying, hahahhaha, but no, I'm not open to adopt, they won't let me go, they love me to much. I know that, they said it every night and day, love you back! Daddy! Sis! Even though I don't say it out loud, but I do, I really really do! You can cross my heart.
Everything pretty much the same I guess, still the old me, who got nerve to punch ( who ever are you) in the face, who said that I don't have a childhood life, just because I like to dress up and write a diary ( but in my case I do it online ), wait, who are you again? Trying to judge me, said things about me, that's funny, I don't get it ....you don't even know me right? (God, I think I really need an anger management, so sorry for the bad words, but I'm only 10, what do you expect? okay almost 11 but still.... okay... * now I'm taking a deep deep breath, count 1,2,3,4... relax... relax...) Okay, I feel better, let's continue.... sorry if you think I'm being to sensitive, it's just, saying bad words about my childhood = you are criticize my daddy parenting skill, and please please don't do that, I can take critique as long as not about my daddy, I love him waaaayyy to much. So please just don't cross the line.
And yeah I'm still not like doing a resolution thing, still think it's a just a big burden, well I guess I'm just not a good dreamer. Still don't know what to answer when people ask me what I want to be, it might be a simple question, but it's too hard to answer. the reason is I really really don't know what I'm going to be,( well I know what I want to be, but it's a secret, that I want to keep for myself ). And quite different from the old days (read. a year ago ) I'm not going to tell you what I think as my achievements, but I'm going to do this with kak Anna ( from much love ) style, I'm going to write down 10 things that I liked in 2009, you can do this too if you want, it's fun! Let's start shall we?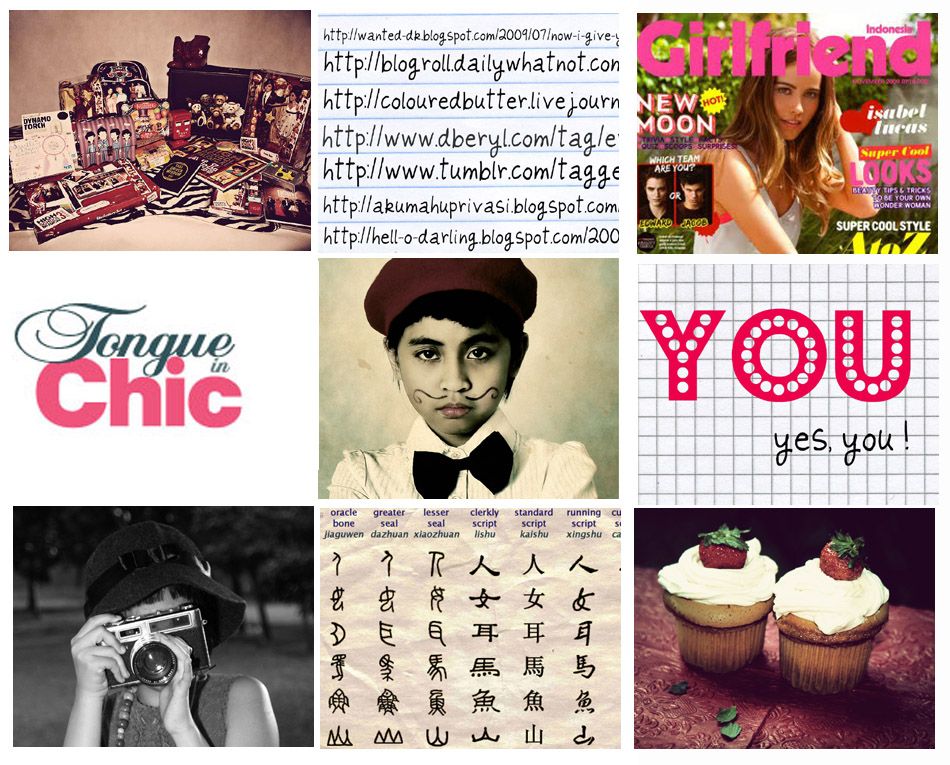 1. First! Got this on 1st January 1999, I still remember how excited I am, well of course it's my Birthday gifts! And yes, I was in love with high school musical back then, my sister said that "your just a little girl after all" well of course I am! * I've got some extra gifts after the photo shoot, too bad I forgot to take the picture. hehhehe I'm proudly pronounce that I got two Gabriella and two troy ( in different edition ), Sharpay, two Kelsie and two Ryan barbie doll
( hehehe, yes I've got same gift, but believe me they got the same share of love ).
2. I'm on girlfriend magazine! Can you believe that? Well I still can't...
3. Being nominated in Tongue in Chic award, under category "a face to watch out in 2010" to be honest I really don't care about winning, you should see the other nomination, being nominated is already a big big honor for me. Ahhh that reminds me! please vote for me again in
here
hehehe ( you can vote every one hour, so if you love me... please.... hehehehe)
4. I won wondershoe contest! Fair and square! And got myself 5 pair of lovely shoes!
5. Being reviewed by Tongue in Chic on their page, they wrote a super nice thing about me, you can read it
here
6. Got reviewed by another blogger! Kak Mia is kind enough to send me an email and there it is, list of links to blog or site that make a review about me, good God, how do I say thank you to them? I know this is not enough, but THANK YOU!
7. I learn more about photography, and just got my very own DSLR camera, yeah my sister got a new one, so her old one is passed on me now. But I wooooff it sooo much it's Olympus E- 510, and I called him Zeus ( you know, he was the most powerful god on Mount Olympus based on Greek myths).
* ps and no, the camera on the picture is not Zeus
8. I learn a new language, it's Chinese (mandarin) language... and yes, it's hard
9. I'm getting good at baking thing, hehehe, you should try my cupcakes!
10. Last but of course not the least, YOU, I LOVE YOU, my reader! I love love love your comments, your nice word, your great advice, thank you! Thank you! Thank you! This is true, one simple comment from you is totally brighten my day! And you too my silent reader! You know I love you!
It's funny if you think about it, that the next time we meet it will be a different year, and I'm not 10 again… Ooops daddy calling, I have to go now! I'm off for my holiday! So we meet next year okay! Don't miss me, even though I'm pretty sure I'm gonna miss you all! Have a nice holiday people!!!
Kisses and hugs!