Helloo all! how are you? how's your day?! well I know, I know holiday is end, and here comes our busy busy busy boring day. But we'll survive, right?! Ehm this is gonna be a super quick post, no photos or anything, hehehe, but believe me you gonna love this post so bad! keep on reading!
So... my twitter followers might already heard this. yes people! my next giveaway is coming!!! Yaay!! it's not open yet, but I can't hold this for myself, and so can't wait to tell you guys, so I made this post, hehehe. So you all can be ready! I'm still on my school day, and still figure out the rules for this giveaway. Please do wait!
And just like you know, I promise myself that if I make a giveaway, the prize is must something that I love, because I know for sure you gonna love it too, and oh yeah! I'm using my own pocket money, I'm saving it, for you all! So I'm so sorry I can't give you many prizes like the last giveaway, this time I only got 3 items, so the competition is gonna little bit more hard. hehehehe.
I know, I know you must be dying to know what the gift is, hehehe don't need to wait any longer, I'm gonna tell you! It's a.... it's a.....
Teen Vogue Handbook!
hehehehe cool right! Oh gosh I love that book so much! and I know for sure you guys gonna love it too! right?! it's like must have book for all fashion lover, and whoever who want to work in fashion world. The cool thing is, the book contain a quote, a tricks and tips from fashion expert! like Marc Jacob, Anna Wintour! and many more! it's sooo coool! and many cool pictures too. one word. Inspiring!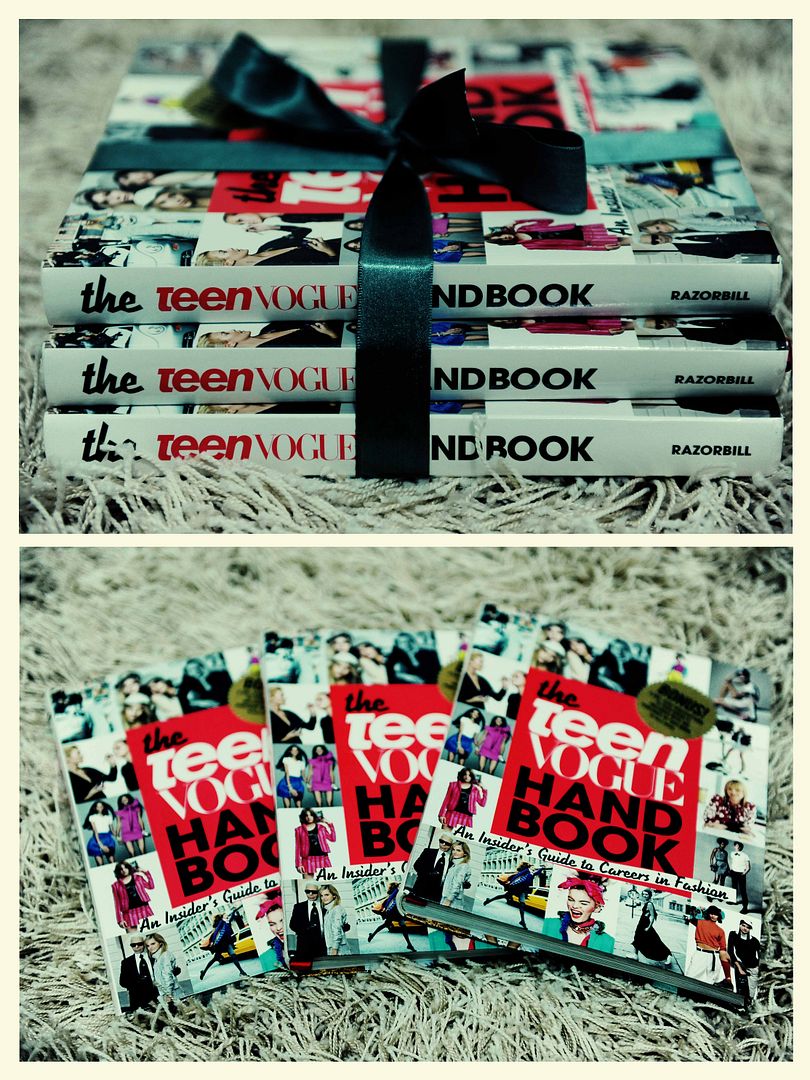 Here comes the bad news, I've got 2 bad news actually...
1. I only got three books, hehehehe, so do your best.
2. This for Indonesia only, well the reason is. I know for sure it's so hard to find this book in here ( I even called 2 big bookstore, and they all said it's out of stock) so I think it would be more fair if this is for Indonesia only, and the main reason is, hehehe well... I'm quite sure my pocket money not gonna cover up the shipping costs for another country. So I'm so so sorry...
BIG NOTE
: I still figure out the rules for my giveaway, and searching for the wrapper and everything. But this one is for fun. For the one who comment in the first place ( and already complete all the rules of course) will get the first book for sure. Remember this is valid only of you already follow all the rules, if you're not then it goes to the second one...and so on and so on... and since you will never know when the post is come ( but I assure you , it's not gonna more than a week) , it can be anytime, it can be tomorrow, it can be the day after tomorrow, or weeks from now... so keep watching guys! :D
and for other two books, I will choose it with an old ways... so prepare yourself and have fun!
some of my favorite quotes from the book
"Ask yourself, are you sure this world is for you? And are you sure you are the right person to survive in this world-world of fashion, a world with no rules, no laws?"
~Karl Lagerfeld
"Creat your own individual style, I'm not interested inthe girl who walks into my office in a head -to-toe label look that's straight off the runway. I'm interested in a girl who puts herself together in an original, independent way."
~Anna Wintour
and oh have a great Friday all! tomorrow is weekend already!!! :D